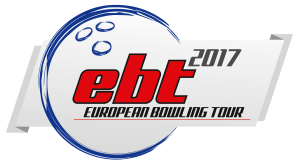 Ballmaster Open is the only tournament, which has been adopted in the European Bowling Tour since the beginning in 2000 (18 times), and it is always conducted as the first every year.
Like the last many years the participation was very high in Helsinki, where not less than 492 athletes took part in the tournament.
54 athletes continued to the first step of the final Saturday night, which were top 44 from the general standing, top 6 from a separate standing of Squad 1-9 and top 4 from the Desperado.
The 54 athletes played 5 games Saturday night and continued with another 5 games Sunday morning, adding the number of games in the step up to 10.
Top 12 after the 10 games continued into a 12 persons Round Robin, including 11 one game matches with 30 bonus points for a won match and 15 bonus points for a tied match.
Everything were here after added together: the 5 first games + the next 5 games + 11 Round Robin games + bonus + women's handicap to determine the best four players for the concluding stepladder final of the tournament.
The following 4 athletes ended atop of the standing after 21 games plus various bonuses:
1. 5077: Daphne Tan, Singapore
2. 5070: Jazreel Tan, Singapore
3. 5028: Carsten W. Hansen, Denmark
4. 5019: Sanna pasanen, Finland
The outcome of the matches in the stepladder final became as follows.
Match 1
Carsten W. Hansen, Denmark: 211
Sanna Pasanen, Finland: 225 (217+8)
Match 2
Jazreel Tan, Singapore: 222 (214+8)
Sanna Pasanen, Finland: 214 U(206+8)
Match 3
Daphne Tan, Singapore: 232 (224+8)
Jazreel Tan, Singapore: 225 (217+8)
Daphne Tan won her first tour title and became the highest ranked women in a tour stop for the first time in her career, while Carsten W. Hansen from Denmark became the highest ranked man for the second time in his career.
The latest women to win Ballmaster Open before Daphne Tan's win in 2017 goes back to 2001, where Piritta Maja (Kantola in those days) won the tournament.
Click here to see the ranking in the Women's Division
Click here to see the ranking in the Men's Division