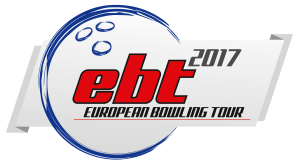 The debut of Francois Lavoie at the European bowling scene became an overwhelming success, since he first won Stop 5 of the EBT 2017 in Madrid and afterwards won Stop 6 in San Marino; a not less than fantastic performance of the young Canadian bowler.
Dominic Barrett from England had before this year's issue of Storm San Marino Open already a record series of three consecutive wins in San Marino in 2014, 2015 and 2016. And Barrett was definitely attending the 13th Storm San Marino Open, conducted on 8-16 July in Rose'n Bowl, with the intention to add a 4th consecutive win.
This was proven during the tournament, when Barrett qualified to the top 4 elimination final, so he surely had the chance to change the 3 consecutive titles in San Marino to 4, but there were other wishes among his colleagues at the lanes. But even then, we want to highlight Barrett's performance in San Marino over four years as something extraordinary.
A successful number of 204 bowlers from not less than 28 federations took part in the tournament; and with the many top bowlers on board, it became a very competitive event.
48 players were qualified to the final steps of the tournament, which consisted of 3 steps including 32, 24 and 18 players, until the tournament was concluded by a 4 person's elimination final. In the final, the lowest scoring player was eliminated after each game and the pin fall for remaining players carried forward to the next game.
The following four players were qualified after the 6 games in Step 3:
1412: Stuart Williams, England
1346: Lucas Legnani, Argentina
1346: Francois Lavoie, Canada
1345: Dominic Barrett, England
Dominic Barrett was eliminated in Round 1 of Step 4, which ended as follows:
257: Francois Lavoie, Canada
222: Stuart Williams, England
217: Lucas Legnani, Argentina
158: Dominic Barrett, England
Stuart Williams was eliminated in Round 2 of Step 4, which ended as follows:
475: Francois Lavoie, Canada
453: Lucas Legnani, Argentina
449: Stuart Williams, England
And finally Francois Lavoie became the winner of the tournament:
697: Francois Lavoie, Canada
656: Lucas Legnani, Argentina
The leadership of the women's division of the tour was overtaken by Jenny Wegner from Sweden with 535 points, with the former tour leader, Daphne Tan from Singapore at position 2 with 450 points, and Sister Cajsa Wegner at position 3 with 405 points.
In the Men's Division of the tour, Carsten W. Hansen from Denmark is leading with 504 points in front of Martin Larsen from Sweden with 419 points and Dominic Barrett from England with 400 points.
For Francois Lavoie it was his second highest ranked position in the men's division, while Jenny Wegner in the women's division was highest ranked for the 7th time in her career.
Click here to see the ranking in the Women's Division
Click here to see the ranking in the Men's Division