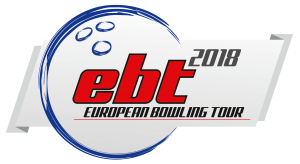 The program of the European Bowling Tour 2018 has been decided by the ETBF Presidium.
The EBT 2018, which is the 19th consecutive tour since the tour was organized for the first time in 2000, consists of 13 tournaments, conducted in 10 different member federations.
The 13 tournaments adopted in the tour are divided in 5 different categories as follows: 2 EBT Platinum, 2 EBT Gold, 3 EBT Silver, 3 EBT Bronze and 3 EBT Satellite tournaments.
The total prize fund in the EBT 2018 is 659.000 €; giving an average prize fund of 51.000 € per stop, which is the same average we have in 2017.
We are very pleased to be able to welcome the Hammer Bronzen Schietspoel Tournament 2018 from Tilburg back in the tour after only one year's absence. The tournament, which is organized by Luc Jansen, will be played in a completely re-build Dolfijn Bowling, which actually is under construction, but which will be ready in due time with 24 brand new lanes.
We are also welcoming one of the real classic tournaments in Europe, namely the 38th AIK International Tournament 2018 from Stockholm, which will appear in the tour program for the very first time. The tournament, which is organized by AIK Bowling and managed by Ian Robinson, will be played over 28 of Bowl-O-Rama's 29 lanes.
Finally we are welcoming a new tournament in Italy, the Rome Open, which will be organized by the Italian Bowling Federation and managed by Riccardo Scquizzato. The tournament will be conducted in the 24 lane centre "Bowling Brunswick", which previously has housed the tour stop Roma International in 2010 and 2011.
The organizer of the Dutch Scheveningen Open, which was included for the first time in the EBT 2017, has decided not to include the tournament in the 2018 program.
The highest ranked woman and the highest ranked man by the conclusion of the EBT 2018 will be awarded 1.000 € each.
The 8 highest ranked women and the 8 highest ranked men after the 13 stops are qualified for the 12th EBT Masters in 2019. The host centre of the EBT Masters 2019 will be published later.
Click here to see the EBT 2018 Calendar.