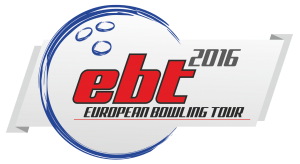 Only Laura Beuthner from Germany (682 points before Doha), and the winner of the EBT 2015 Jenny Wegner from Sweden (567 points before Doha), had a chance to capture the women's tour title when the last stop in the tour season took off in Qatar on 10 December.
Jenny Wegner took in a little of Laura Beuthner's lead, since Jenny was awarded 110 points for being the 8th best women in the tournament, while Laura was awarded 75 points by being positioned as the 11th best women, but it was not enough.
Laura Beuthner was at the end able to claim her first tour title with a total of 757 points, 80 points in front of Jenny Wegner ending at a total of 677 points. Ida Andersson from Sweden became no. 3 with 520 points, of which 70 points was awarded in Doha.
Jesper Svensson from Sweden, the tour winner in 2015 and the leader of the tour in 2016 before the last stop in Doha, was not attending the Qatar Bowling Open and the most likely outcome of the situation would then be the that he would be passed in Qatar, and it happened.
Richard Teece from England was able to claim his first tour title with 634 points, of which 65 points was awarded in Doha. Jesper Svensson became 2nd with 572 points and Osku Palermaa from Finland 3rd with 564 points, including the 120 points he was awarded in Doha.
We are congratulating the two new tour winners, who both have worked hard and intensively for their tour crowns as frequently attending athletes at many stops over the season.
Laura Beuthner and Richard Teece will each be awarded 2.000 € for their tour victories.
Click here to see the final standing of the Women's Division in the EBT 2016
Click here to see the final standing of the Men's Division in the EBT 2016