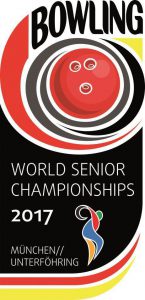 The World Senior Championships for 50+ athletes was conducted in Dream-Bowl Palace in Munich, Germany on 13-20 August 2017.
The first two issues of the World Senior Championships were both conducted in Las Vegas, USA. In the first issue in 2013 a total of 213 athletes (90 women and 123 men) took part, while a total of 201 athletes (89 women and 112 men) took part in 2015.
It was expected that the first ever held World Senior Championships in Europe would attract a higher number of athletes, which it surely did, since a total of 273 athletes (110 women and 163 men) took part in Munich.
The much higher European representation did, however, not influence the medal distribution for titles in the championships, which was strongly dominated by athletes from primarily USA.
Looking at titles, it became a nearly US only affair, only broken by the doubles from Canada in the women's division. In all other 9/10 disciplines USA captured the title.
The 10 World Senior Championships 2017 titles were distributed as follows:
Women's Division: Singles
USA by Lynda Barnes
Women's Division: Doubles
Canada by France Joubert and Jill Friis
Women's Division: Team of Four
USA by Carolyn Dorin-Ballard, Leanne Hulsenberg, Lynda Barnes and Trish Johnson
Women's Division: All Event
USA by Leanne Hulsenberg
Women's Division: Masters
USA by Lynda Barnes
Men's Division: Singles
USA by Ron Mohr
Men's Division: Doubles
USA by Parker Bohn III and Bob Learn
Men's Division: Team of Four
USA by Lennie Boresch, Ron Mohr, Bob Learn and Parker Bohn III
Men's Division: All Event
USA by Ron Mohr
Men's Division: Masters
USA by Parker Bohn III
European athletes took 8 medals as follows:
Women's Division: Singles (2 X Bronze)
Finland by Reija Lundén
Russia by Larisa Stashchenko
Women's Division: All Event (Bronze)
Finland by Reija Lundén
Women's Division: Team of Four (Bronze)
Sweden by Susanne Olsson, Kristina Nordenson, Christel Carlsson and Lena Sulkanen
Women's Division: Masters (Silver)
Norway by Janne Monsen
Men's Division: Team of Four (Bronze)
Finland by Jari Aikioniemi, Sami Luoto, Ari Halme and Teemu Raatikainen
Men's Division: All Event (Silver)
Belgium by Marc Franceus
Men's Division: Masters (Bronze)
Sweden by Stefan Yngström
Click here to see the list of medallists in the World Senior Championships 2017
Click here to see a completed list of results for the World Senior Championships 2017