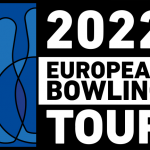 The Brunswick Euro Challenge 2022 was held in the fabolous Dream Bowl-Palace in Unterförhing, Germany, during 25 June to 3 July 2022, total 715 entries and re-entries by 215 athletes, where of 45 were women bowled during the week.
After the final step 3 then the following 3 athletes were playing stepladder for the win.:
Top seeded: Kim Bolleby, Sweden
Second sedded:  Dominic Barrett, England
Third seeded:  Rasmus Edwall, Sweden
First Dominic had a easy win, 209 vs 169 from Rasmus Edwall, but then came a nailbiting final game, ending with 236 vs 235 for Dominic Barrett vs Kim Bolleby.
The highest woman became Mai Ginge Jensen, Denmark.
There were considerable changes in the standings in the tour ranking, Now Tomas Käyhkö, Finland and Mai Ginge Jensen, Denmark are leading men respectively women ranking.