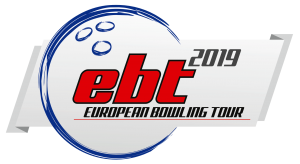 The first Greek EBT stop for a long time was conducted in Thessaloniki, 14-22 September, 210 athletes, 47 women and 163 men, battled it out – with total of 514 entries and re-entries.
In the final we saw battle between woman from Malta and man from Greece and the first ever win by Malta woman became real, Cynthia Duca won Montsenigos Eleytherios from Greece in 2 game match 498 vs 455 (including 8 pin handcap per game),  Konstantinos Kitsos – Marios became number 3.
We did not see any changes in the women's division of the tour as Anna Andersson from Sweden is leading now with 558 points in front of her countrywoman Jenny Wegner with 477 points, Cherie Tan from Singapore is together with Misaki Mukotani from Japan at 3rd place with 475.
In men's division was no changes: Arnar David Jonsson, Iceland is leading the men's division of the tour with 528 points in front of Adam Andersson from Sweden at position 2 with 475 points and Carsten Hansen from Denmark at position 3 with 405 points.
Click here to see the ranking in the Women's Division
Click here to see the ranking in the Men's Division