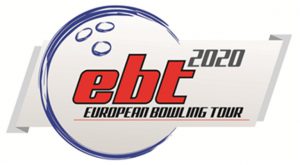 The Hammer Bronzen Schietspoel Tournament, was conducted in Dolfijn, the Plays To Be, Tilburg, Netherlands during 16-23 February 2020;a total of 592 entries by 238 athletes (where of 50 women) bowled during the week.
After two steps of 4 person pools then we had the final pool of 4 persons playing 2 games for the ultimate prices – results as follows:
Mathias Ankerdal, Denmark:              224+266= 490
Michael Krämer, Germany:                237+210= 447
Cajsa Wegner, Sweden:                    168+192= 376 incl. hdc.
Mark Jacobs, Netherlands:                 304+164=368
This was the first win for young Mathias Ankerdal, Denmark on the European Bowling Tour.
Highest ranked woman became Cajsa Wegner, Sweden.
After the Hammer Bronzen Schietspoel, then we did not see any changes in the leadership of the European Bowling Tour.