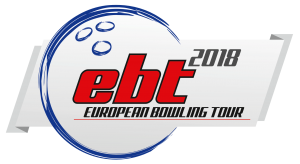 Dream-Bowl Palace broke the tour record with fantastic 1.197 entries in the 14th issue of Brunswick Euro Challenge, a record which seemed to be impossible to beat, but they did it again this year, where not less than 1.279 entries was bowled in the 15th issue of Brunswick Euro Challenge, which were concluded in Munich on 18 March 2018.
383 athletes from all corners of the World took part in the tournament, of which there were a lot of national team players and other top bowlers, forming a highly competitive field of athletes in Munich.
The format of the final day included a step 1 with 52 athletes, bowling 6 games from scratch, continuing with step 2 consisting of 28 athletes, including top 16 from step 1 and top 12 from the qualification, bowling another 6 games starting from scratch.
From step 2, 8 athletes continued into a 7 games round robin with the pin fall from step 2 carried forward.
The standing after step 3, including scores from 13 games and bonus points, were as follows:
1. Anthony Simonsen, USA: 3408
2. Jenny Wegner, Sweden: 3281
3. Yannaphon Larp-Apharat, Thailand: 3271
4. Stuart Williams, England: 3217
5. Siti Safiyah, Malaysia: 3210
6. Cherie Tan, Singapore: 3150
7. David Simard, USA: 3119
8. Mai Ginge Jensen, Denmark: 3107
Finally top 3 concluded the tournaments with two stepladder matches as follows:
Match 1: Yannaphon Larp-Apharat vs. Jenny Wegner: 214 vs. 233
Match 2: Jenny Wegner vs. Anthony Simonsen: 219 vs. 213
Jenny Wegner won an EBT Title for the first time in her career and she became the highest ranked women for the 8th time. Anthony Simonsen became the highest ranked man for the second time in his career.
Jenny Wegner is leading the women's division of the tour with 422 points, Cherie Tan from Singapore is at position 2 with 355 points and Bernice Lim from Singapore is at position 3 with 309 points.
Anthony Simonsen from USA is leading the men's division of the tour with 469 points in front of Jesper Svensson from Sweden with 390 points at position 2 and Rafiq Ismail from Malaysia with 370 points at position 3.
Click here to see the ranking in the Women's Division
Click here to see the ranking in the Men's Division