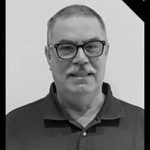 It is my sad duty to inform you that ESBC Honourable Member Paul Douw from The Netherlands has passed away this Tuesday.
Paul was a good friend to many bowlers all around Europe and the World. He served the ESBC Organization as Secretary from 2002 to 2008 and as President from 2008 to 2017. While he led the organization, ESBC and the ESBC Championships have grown tremendously to social events. Due to starting health problems, Paul was forced to step down after 15 years of membership in the ESBC Presidium and was appointed Honourable Member. Now, he had to give up his last fight with cancer.
Our thoughts and feelings are with his family and his wife Annemarie. We will always honour Paul's memory.
On behalf of the ESBC Presidium.
Florian Fister
Secretary
European Senior Bowlers Committee