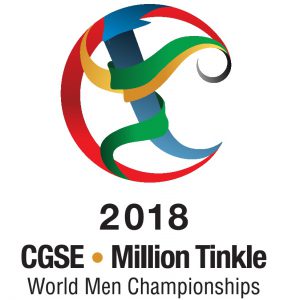 It is a great pleasure to congratulating Italy for their first ever won gold medal at a World Championship and Ireland for their first ever won medal at a World Championship.
At the WMC 2018 in Hong Kong Marco Reviglio, Pierpaolo De Filippi, Nicola Pongolini, Erik Davolio, Antonino Fiorentino and Marco Parapini won the Team event by defeating the favourite team from USA 2-0 (189-169 and 210-166) in the best of 3 games Bakers format final.
Irelands Christopher Sloan bowled tremendous over the entire championships by qualifying to the Masters from position 6 in the All Event standing and finally came as far as the Semi Final, where he ended the most prestigious achievement in his career by winning a bronze medal.
We finally congratulate also Sweden with their bronze medal in the Trios event. The Swedish Trios consisted of Mattias Wetterberg Jesper Svensson and Martin Larsen.
The World Men Championships 2018 was conducted on 24 November – 6 December 2018 in the South China Athletic Association Bowling Centre in Hong Kong.
265 male athletes competed in Singles, Doubles, Trios, Team, All Event and Masters.
The 6 gold medals were awarded as follows:
Singles / Malaysia
Muhammad Ismail Rafiq
Doubles / Malaysia
Adrian Ang and Tun Al-Hakim
Trios / USA
EJ Tackett, Kyle Troup and Andrew Anderson
Team / Italy
Marco Reviglio, Pierpaolo De Filippi, Nicola Pongolini, Erik Davolio, Antonino Fiorentino and Marco Parapini
All Event / USA
EJ Tackett
Masters / Canada
Mitch Hupe
The Masters event was concluded as follows:
Semi Final: Mitch Hupe (Canada) vs. Dan MacLelland (Canada): 2-0 (199-176 and 224-221)
Semi Final: Kyle Troup (USA) vs. Christopher Sloan (Ireland): 2-0 (230-226 and 245-220)
Final: Mitch Hupe (Canada) vs. Kyle Troup (USA): 2-0 (192-192 and 202-190):
Click here to see the list of all medallists
Click here to see the completed list of results